A clean, fluffy carpet is one of the great joys in life, particularly during the colder months when you need some warmth and comfort. However, spilling red wine on it definitely isn't! While the delicious fruity taste is something we can all enjoy, getting the rich pigment all over cream carpets and other fabrics can be a total nightmare.
While there are many red wine removal hacks out there, not all of them can be guaranteed to work. As experienced, professional cleaners serving the London area, we reveal our top cleaning methods for getting red wine stains out of carpet.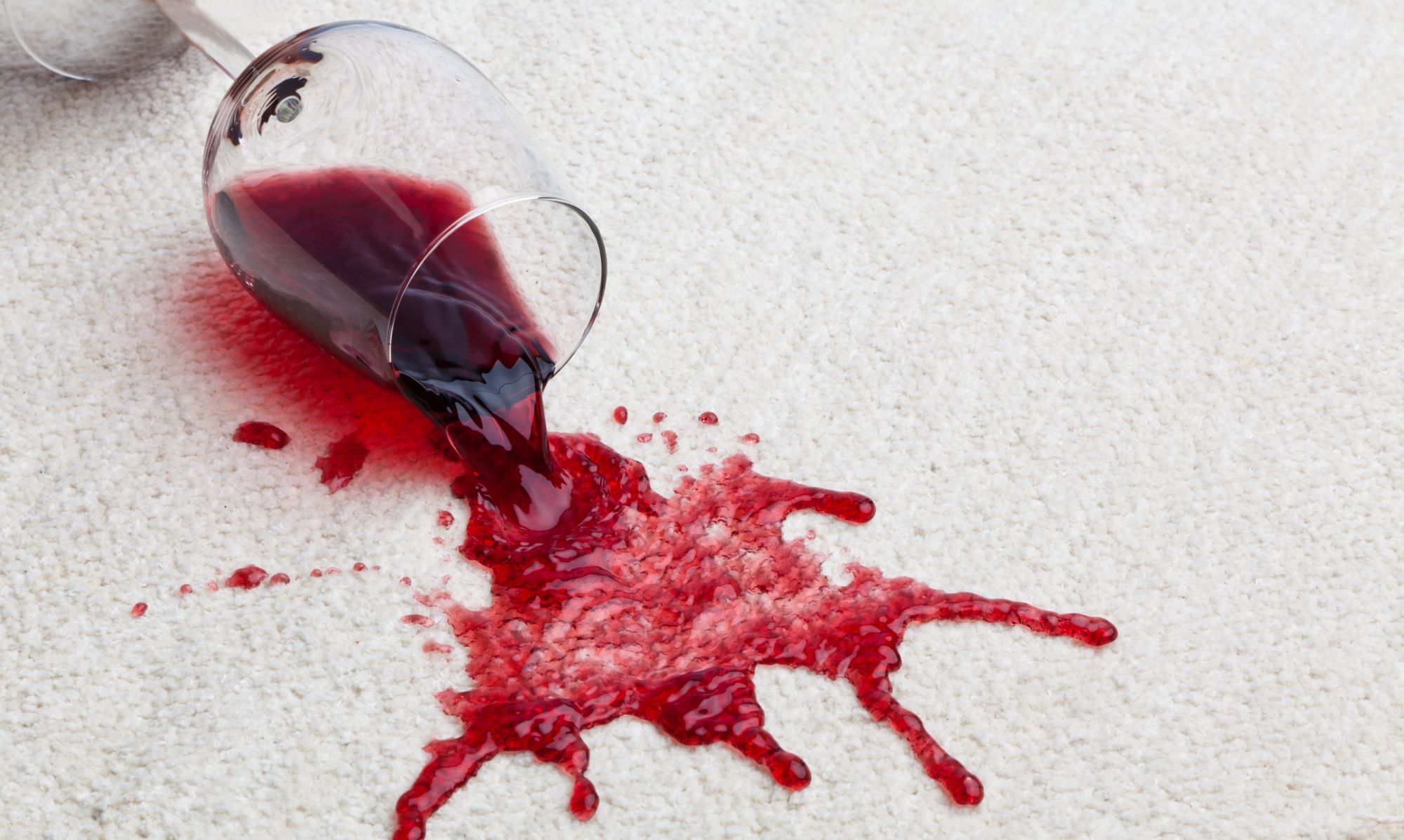 Removing red wine stains from carpets
As carpet-cleaning professionals, we know that red wine is one of the toughest stains to remove from carpet when not treated properly. Other notoriously tough stains include coffee, ink, blood, and the results of any accidents your pets might have!
However, there are three trusty DIY methods you can turn to for red wine stains, all of which use a handful of ingredients you're likely to have in the kitchen cupboards, making them non-toxic and safe for pets.
1.  Removing red wine stains with salt
Our first DIY method is to try using salt. After blotting away as much of the wine as you can using a paper towel or cloth, pour some salt over the affected area and allow some time for the salt to draw the wine up and out of the carpet. When this happens, you can simply hoover up the salt and carry on enjoying your carpet.
When using this method, take care to keep any pets or children away from the salt in case they try to eat it or accidentally get it in their eyes.
2. Baking powder for red wine stains
Baking powder is another popular option for tackling red wine stains in carpets. Again, you do this by blotting away as much wine as possible, potentially adding some cold water to the stain in order to blot more away. Once you've got out all you can, sprinkle some baking powder onto the stain and leave it to dry. Once dry, simply hoover it up.
3. Vinegar on red wine stains
Vinegar is a great cleaning tool with lots of cleaning properties. To use it on red wine stains, a combination of warm water with a tablespoon each of vinegar and dish soap can be applied.
Do's and don'ts of wine stain removals
In certain scenarios, getting red wine on your carpet might send you into a state of panic, and in rushing to fix it you could end up making it worse than it already is. Before rushing into anything, it's good to be aware of the following do's and don'ts.
DON'T scrub at the stain – always blot it
DO try and soak up as much of the wine with paper towels before applying anything else
DON'T pour white wine onto the stain – this could result in spreading the stain and damaging your carpet
DO use a sponge rather than anything abrasive and harsh that could damage your carpet
DON'T try to dry the carpet with a hairdryer as this could damage your carpet or cause the hairdryer to overheat
Professional, affordable cleaning services in London
At Efficient Cleaning London, we pride ourselves on our tailor-made cleaning services that are designed around the client's exact requirements. Our high-quality service is available throughout London, including the locations of Raynes Park and Sheen.
Offering an unrivalled service to both domestic and commercial clients, another area of expertise we offer is carpet cleaning, which is designed to remove particles and allergens as well as tough stains that just won't budge with everyday methods.
If you'd like to find out more about the cleaning services available throughout Surrey and south London, please get in touch with us on 07885 607 658 or 0208 288 98 58, or send an email to office@efficient-cleaninglondon.co.uk.