As we're all spending more time at home than ever before, it's important our environment work for us, ensuring comfort, warmth and security. But did you know an organised and clean home can also boost our mood?
You may have heard of the phrase "tidy home, tidy mind" before, but not really thought about how this works. If you want to know more about how a clean home can help improve your mental well-being, read on.
No Mess, No Stress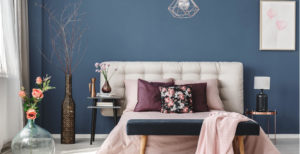 In the past, studies have shown that clutter and mess around the home can lead to higher levels of stress and anxiety. It can even make you feel less productive when you see piles of jobs left unfinished. This is particularly difficult if you're now working from home because it can distract the mind from the task at hand. It's particularly unhelpful for anyone in a creative role who needs a clear mind to focus better.
Mess can also be a distraction while you're trying to unwind or relax at the end of the day, serving as a reminder of tasks on the to-do list you haven't yet completed. If your home is organised, you can find things easily, making cooking or hobbies more enjoyable.
How a Clean Home Benefits the Mind
While keeping your rooms tidy can help to declutter the mind, a clean home is one of the best ways to improve your living environment. It's amazing how shiny surfaces, polished woodwork and a clean carpet can uplift the appearance of your home and make you want to spend time in each room.
There's nothing worse than feeling like your home could be exacerbating your physical health, e.g. hay fever, colds etc. Therefore, a clean house can also help you to relax and feel happier knowing your property is free from many of the germs, bacteria and allergens we bring inside.
Tips for Keeping Your Home Clean & Tidy
When it comes to keeping your home in a clean and tidy state, staying on top of some of the smaller tasks is a good place to start.
You don't have to spend hours cleaning and tidying your home each week. Even just 15 minutes a day to keep on top of tasks like wiping over kitchen surfaces, washing the dishes, whizzing the hoover around or putting clothes away can help you feel better.
If you have a lot to do, just tackle one room at a time so that you can focus on getting that area of your home clean and tidy.
To stay organised, investing in some more home storage can help you to know where things are and keep mess out of sight.
Get help! Look for experienced, flexible and friendly cleaning companies in your local area to see what they can do for you. This could be a deep one-off clean or regular domestic cleaning each week.
Need help cleaning your home? Efficient Cleaning London works across the local area, including Ewell, Molesey and Surbiton. Contact us now for a free quote.