There are lots of benefits of giving your home a domestic spring clean, giving your rooms an uplift while ensuring each space feels fresh and clean now the warmer weather is on the way. However, did you know it could also help you to sell your property quicker? Here are some factors to consider.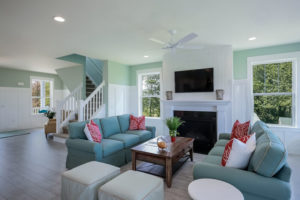 Create Lighter Rooms
When homebuyers view a property, lighter rooms can create a sense of more space, so deep cleaning helps sunlight to bounce off surfaces and achieve a brighter, spacious feel. Clean windows can also encourage more natural light to shine through your home, so make sure the glass, sills and frames are sparkling.
Achieve Homely Spaces
It's vital for potential buyers to imagine living in the property, so you should always make each room look and feel as appealing as possible. Dusty surfaces, pet odours and carpet stains could all put people off, so don't let a dirty home turn viewers away. After spring cleaning, you could even add some additional touches, like fresh flowers to make the place feel more homely. Buyers will often appreciate seeing the effort, care and attention you've put into taking care of your home, increasing their trust in you.
Remove Bad Odours
Bad smells around a property can be a huge no-no for prospective buyers, so try to identify where the odours are coming from. Is there a lot of pet hair on your sofas? Is your bin storing some nasty surprises? Removing the source of the smell can help create a more inviting environment for others, so make sure you clean these areas thoroughly. You could even request professional upholstery cleaning to spruce up your seating and cushions, leaving your home smelling fresh. You can also breathe life into your floors by requesting a rug or carpet cleaning service.
Declutter
As well as cleaning, don't forget to declutter when selling your home. This doesn't mean depersonalising the space, but just making sure everything is stored away in its correct place and getting rid of things you don't need anymore. This will reduce stress later on when you move while creating more attractive spaces. It will also help you to maintain your home's cleanliness as you won't have to clean around mess anymore.
Detailed, Floor to Ceiling Cleaning
Spring cleaning is about floor-to-ceiling cleans that target all those spots you may miss during a more casual tidy-up session. This includes door frames, skirting boards and picture rails that gather dust and bring down the overall feel of corridors and rooms. You could even uplift bathroom and kitchen floors by cleaning tile grouting.
Are you selling your home?
Whether you've been on the market for a while without success or you're about to enter the process, hire Efficient Cleaning London to perform a deep clean of your home. We provide professional spring cleaning services near South West London and Surrey locations, including Cheam, Putney and Thames Ditton. For a free, no-obligation quote, contact us.