In such uncertain times during the Covid-19 crisis, the need for hygienic workplaces has never been clearer. Many businesses are turning to cleaning companies to help them achieve this, understanding that deep office cleaning can prevent the spread of germs.
By implementing regular cleaning schedules with a professional company, you can lower the spread of viruses and bacteria across the office environment. Here's everything you need to know.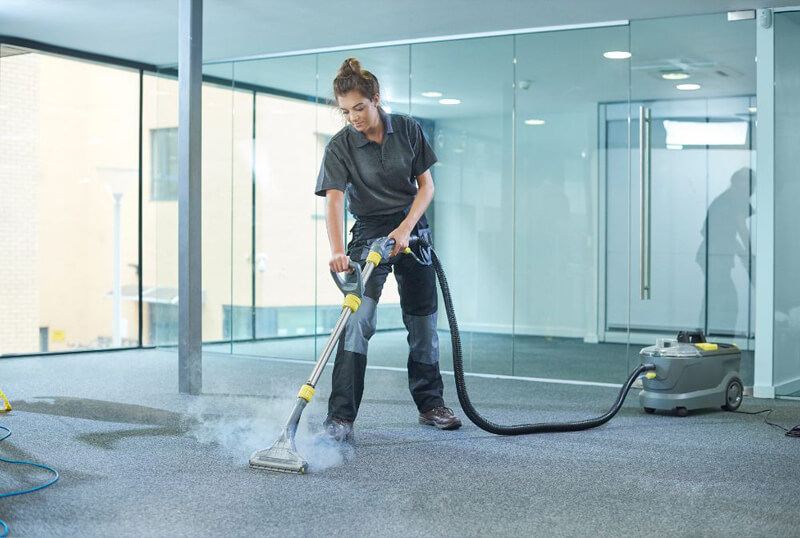 How Germs Spread
The spread of viruses like Covid-19 occurs when people are in close proximity to each other and when droplets produced (e.g. when coughing or sneezing) by an infected individual are passed onto somebody else. The spread is also increased if others touch an object or surface which has the virus on it. However, the good news is that normal cleaning methods can remove and kill the virus, making workplaces safer.
Importance of Professional Office Cleaning
Cleaners play a vital role in keeping your staff and others as safe as possible when visiting your business. Speak to a cleaning company about the Government guidance created for office cleaning services and what actions they're taking to ensure the correct methods are followed.
You should consider deep cleaning for all spaces, whether it's desks and communal spots, reception areas or lifts and staircases. Your cleaners will work with you to develop a task list that's going to cover all bases, decontaminating anything from door handles and stair rails to telephones and keyboards.
Decontaminate Your Surfaces with Virus Killing Products
Professional cleaners will know which products and disinfectants to choose when it comes to those which are going to kills viruses and bacteria. This ensures that anyone else coming into contact with that surface isn't at risk. A methodical approach makes sure every each of each area is kept spotless, so you'll have a workplace which looks good too.
Safe Cleaning Practices
Cleaning companies should implement practices to help reduce contact between the cleaners and staff at each office. For example, here at Efficient Cleaning London, our cleaners wear a fresh, clean face mask for every job, use thorough hand cleaning methods and sanitiser, change their clothes after travel, maintain a safe distance and can avoid peak times.
Long Term Cleaning Plans
The Covid-19 crisis has highlighted the need for businesses to be aware of how bacteria and viruses can spread in an office environment, so the new cleaning practices in place are going to be an important part of everyday life.
Germs are something which easily spread when workplaces aren't kept clean, and employees don't practice good hand hygiene. By implementing long-term cleaning schedules in your office, you can help lower sickness rates related to any illnesses which spread quickly when a hygienic environment isn't made a priority.
Looking for an office cleaning company?
At Efficient Cleaning London, we work across the local area, providing regular office cleaning in locations such as New Malden, Raynes Park and Roehampton. Contact us now to discuss your requirements.