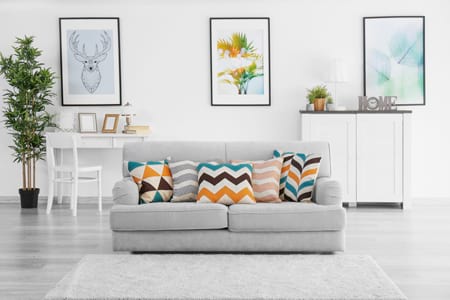 Hiring a professional cleaner is all about making your life easier, ensuring that your home looks as sparkling and beautiful as possible at all times – even when your schedule is hectic.
As such, you should feel relaxed and like a weight has been lifted from your shoulders when your cleaner visits. There is very little that cleaners require homeowners to do beforehand, but it may put your mind at ease to do a bit of preparation – especially if this is your first clean. Here are just some quick tips about preparing your home for a professional clean.
De-clutter the space
A professional cleaner can achieve exceptional results in any environment, but a clear, clutter-free space is ideal. If you have time, you may like to put away your personal items or anything that is clogging up the surfaces. This will enable the cleaner to clean your property more quickly and efficiently. Of course, cleaners also understand that you sometimes have to rush out the door, so please don't stress about de-cluttering if you don't have time.
Make your expectations clear
If you have a particular way that you like your home to be cleaned, or want specific products to be used (which you may need to provide), then you should contact the cleaning company in advance to give them your instructions. This will allow the cleaner to prepare accordingly and make sure your home is cleaned to your liking. If this is your first professional clean, you could always stick around so that you can ask questions and provide feedback as needed.
What about carpet cleaning?
Having your carpet professionally cleaned requires a little more preparation than a standard house clean. As well as de-cluttering the space, you should move any light furniture from the area. This includes things like floor lamps, chairs and coffee tables, which can be tricky to clean around. You may also like to make sure that your pets are safely closed away in another room, as they might get spooked by the machinery and may also get in the way.
Preparing for a professional ironing service
In order for your cleaner to know which items require ironing, you will need to leave them out. When you are booking the service, you can explain how many items are to be done. For best results, always use a fabric softener when washing your clothes, as this makes them easier to iron. It is best to fold bedding sheets before putting them in the washing machine, as this ensures that awkward creases are not formed and makes ironing more efficient.
Here at Efficient Cleaning London, we provide high-quality, reliable cleaning that is tailored to your needs. If you live in Hampton Wick, Ewell, New Malden or a nearby area, contact us today.