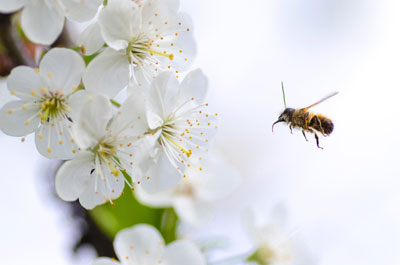 Surrey and London have been hit by a heatwave this Spring which has left many enjoying the glorious weather, but for others, the sunshine can bring fresh suffering when a pollen bomb strikes from multiple trees in the UK at the same time. For those affected by hay fever, it can leave them feeling pretty rotten with itchy eyes, sneezing, headaches and tiredness being just some of the symptoms experienced.
Luckily, If there's one place you can help make a pollen-free zone, it's your house, creating a haven where you can feel at ease to recover. Follow our top tips for making this a reality.
Clean Curtains and Upholstery
As much as you try to keep your windows closed, when your house becomes stuffy, you may need to let some air in towards the end of the day when pollen counts are lower. This can lead to pollen becoming trapped in the fabric of your curtains. Equally, your family, pets and guests may be bringing pollen into your home on their clothing and transferring it onto your furniture. The simple solution is to regularly clean your curtains and upholstery. Whereas any removable covers can be put through the wash, it's just as easy to run the hoover over everything from your mattress to your sofa cushions, as well as regularly changing your pillowcases and having a shower before bed.
Don't Forget Your Flooring
While imposing a no-shoes policy in the home can prevent dirt, pollen and other particles from being worked deeply into the fibres of your carpet and other flooring, it can be a little more difficult when pollen is transferred from clothing and pet hairs. Changing your clothes once indoors and brushing your pets can help to keep pollen from spreading throughout the home, but regular vacuuming and mopping should make a big difference too. You may also choose the hotter months to use a professional carpet cleaning service, removing allergens and some of those stubborn stains which have built up during the year.
Ask for Professional Help
When you're feeling unwell from hay fever, the last thing you need is a top-heavy cleaning schedule just to keep your symptoms at bay. Many professional cleaners can offer you tailored services, providing regular cleans at a time to suit you, as well as one-off tasks and spring cleaning services which can help you to get a step ahead of the game before a heatwave strikes.
Here at Efficient Cleaning London, we provide a wide range of bespoke domestic cleaning services across Surrey and South West London locations, including Hampton, Sutton and Epsom. Whether you need your flooring left completely spotless or your upholstery is in need of a spruce up, just let us know your individual requirements. Get in touch now for a free, no-obligation quote and to discuss your needs.